Frequently asked questions
Is the strap safe?
---
Yes absolutely! We designed FaceCradle with safety at the forefront. The safety harness has a built in release clip, similar to an ID lanyard. The video below shows how this works. It opens with pressure, yet will not release during normal use. The connector clips are also designed to release with excessive force. Remember, your seatbelt is your primary safety device and will hold you in your seat. Like carry-on bags with straps, in emergencies, your FaceCradle should be stored away. In case of an immediate impact in transit, FaceCradle acts as a cushion device that protects you.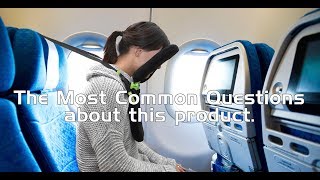 ---
Will the strap cover the TV behind me?
---
In short, no. The strap will attach to the winged part of the headrest. See the video below. Where there is no winged headrest, the seat is configured for domestic or short haul and in most cases here, there is no TV behind. In the rare incidence where there is a TV behind with no winged adjustable headrests, you can politely inform the person behind that you will be sleeping with your seat forward, not reclined and ask if they would be so kind to push the strap aside, if it gets in their way. If you feel you don't want to do this, you can configure the pillow in several other positions without using the strap. See our video under "How it works".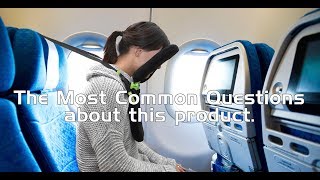 ---
Are the covers removeable and washable?
---
Yes! Both covers are removable and can be washed and dried in accordance with the instructions sewn into the seam inside the covers. This video shows how to remove the covers...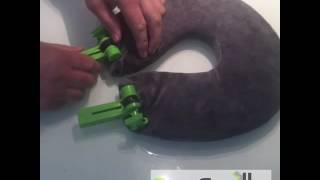 ---
I am a large person, will FaceCradle hold my weight?
---
FaceCradle is designed to spring and flex and will not break for even the heaviest person. The internal frames are made from similar material to a fishing rod and are fibreglass reinforced. Remember over 80% of your body weight is held on the seat. This means the pressure applied to your FaceCradle when you rest into it, is minimal. Under extreme impact the harness is designed to seperate from the buckles and the safety release will open without breaking any parts. The construction is very durable. Over 250,000 units have been manufactured to date with not one breakage in typical use.
---
My FaceCradle has a chemical smell, what can I do?
---
Your FaceCradle contains some plastic, non toxic parts. In most circumstances the odor will dispurse during the manufacturing process however it can be trapped inside the plastic protective shipping bag, when packed. Once this protective bag is removed, all odor should disperse within 2-3 days. If you have very sensitive smell, you can remove the covers and wash them under the instructions above.
---
I have lost my safety harness, what can I do?
---
Replacement harnesses are available to order from our shop, here on this website.
---
The strap has come out of the cam lock, how do I re-thread it?
---
Please watch the following video. Kindly note, all models now have an end tab added since this video, designed to resist the strap pulling through. It will be a tighter squeeze to re-insert the end if the strap has pulled through but it should still remain quite simple to do.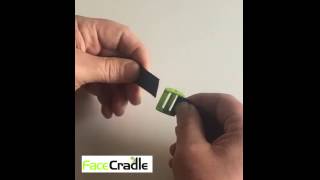 ---
A harness clip has become jammed in the buckle. How do I release it?
---
This happens by a misalignment of the clip when inserting. Make sure you connect both left and right legs of the clip evenly and push the clip in straight. This will avoid future jamming. To release is simple with a flat blade screwdriver. Please see this video.
---
What's the difference between the FaceCradle Models?
---
The Wanderlust Models are our latest and have had the size, weight and shape optimized. 35% smaller and lighter, they maintain maximum comfort with an improved new design of the internal support frames. The shape has also been improved to countour better with the seat back in Dozing and Snoozing Modes. Original has brushed velour fabric like Wanderlust with removeable covers and zips in each pillow. Tripster is the same as Original however is the value version with polyester removeable covers with pillow case ends. (no zippers). If you prefer convenience and portability, choose Wanderlust. If you like a bigger pillow choose either Original or Tripster. All models provide more comfort options and support than any other travel pillow.
---
---